Though the US social commerce market is growing at a rapid pace, China is not likely to lose its position of dominance in the near future.
According to the research data analyzed and published by Finaria, retail social commerce sales in China were estimated to be worth $242.41 billion in 2020. The figure accounted for 11.7% of the total online sales in the country during the year. Social commerce value had grown from $186.04 billion in 2019 when it accounted for a 10.3% share of online sales.
Based on eMarketer's projection, the market will grow to $363.26 billion in 2021. That would mark an increase of 35.5% year-over-year (YoY) and would triple the 2018 market's worth. Its market share during the year is set to rise to 13.1%. In subsequent years, the market share is expected to keep rising, reaching 13.9% in 2022 and 14.3% by 2023.
Comparatively, social commerce in the US is expected to grow to $36.09 billion in 2021, equivalent to a tenth of the Chinese sector. Its share of the overall eCommerce market in the region is also set to be much lower, at 4.3%. The market share is forecast to increase to 4.6% in 2022 and 4.9% in 2023.
The number of social buyers in China, estimated to be 357.2 million in 2020, is set to rise to 392.2 million in 2021. In 2022, it will increase further to 420.0 million and up to 446.8 million in 2023.
From accounting for a 30.6% share of the population in 2020, social buyers will grow to a 33.5% share in 2021. By 2023, they will represent 37.9% of the country's population.
WeChat Mini Programs Transaction Value Rose to $250 Billion in 2020
According to eMarketer, China's social commerce market performance is partly attributable to a smartphone-driven eCommerce culture. China has experienced rapid infrastructural development in recent years. A huge chunk of the population went from not having internet access to having smartphones in their pockets.
Most of its social buyers shop using mobile devices and most digital shops start out on mobile layouts. But in the US, retailers start with a website and transition to mobile later.
Chinese rural communities coming online have played a significant role in the market's growth. For instance, farmers were key in transforming Pinduoduo, a Chinese social commerce site, into the fastest growing eCommerce site in the region. Per eMarketer data, the platform's eCommerce revenue surged to $251.76 billion in 2020, a mere five years after its launch.
On one hand, farmers used it to sell their produce at a reasonable price. And on the other, rural consumers used social media to find high numbers of buyers required for volume discounts.
WeChat's Mini Programs, where merchants host storefronts on the social media app, is among the most popular social eCommerce platforms. In the third quarter of 2020, for instance, Pinduoduo's transaction value on Mini Programs amounted to $214.7 billion.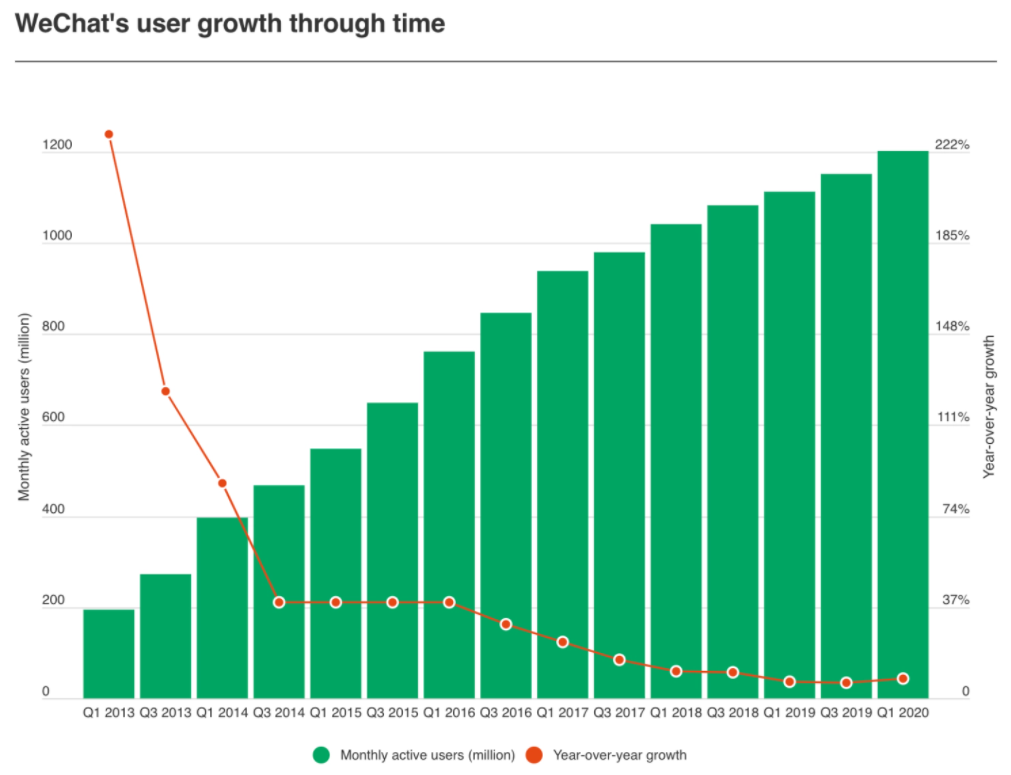 Tencent reported that its Mini Program transactions in 2020 rose by over 100% from the 2019 figure of 800 billion yuan ($115 billion).
According to the most recent available data, WeChat hosts 2.3 million Mini Programs. Comparatively, Apple App Store has 1.96 million while Google Play Store has 2.87 million.
In 2020, WeChat facilitated transactions worth 1.6 trillion yuan (almost $250 billion) through Mini Programs. That was double the transaction value reported in 2019.
52% of China's Retail Sales Will Happen Online in 2021
The growth of China's overall eCommerce market is taking place at a faster pace than anywhere else in the world. According to WeForum, China accounted for over 50% of global online retail sales in 2020.
Between 2016 and 2020, the share of online sales in China's retail sales more than doubled, going from 20% to 44.8%. Comparatively, the UK's share was 27.7% in 2020 while that of the US was 14.7%.
According to eMarketer, China will set a new record in 2021, with 52.1% of its retail sales taking place online. This will be the first time that more than half of a country's retail sales will have transacted on the internet.
South Korea will be second to China with a 28.9% share while the UK will take third place with 28.3%. In the US, the share will be 15%, placing it behind Denmark (19.1%) and Norway (17.6%).
In 2020, China's brick-and-mortar sales plummeted by 18.6% as eCommerce sales grew by 27.5%. eMarketer projects a similar trend for 2021, with the former declining by 9.8% while the latter increases by 21.0%.
It is interesting to note that the US will still be the global leader in overall retail sales in 2021, with $5.506 trillion against China's $5.13 trillion. However, China will outperform the US in eCommerce by a more than $2 trillion margin.